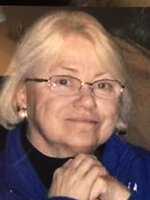 Nancy Patricia Neirinckx
Nancy passed away peacefully on October 30 with her husband Jerry and son Christopher by her side.
A beautiful person both inside and out with a generous, kind and loving heart.
"I am so lucky to have had you in my life and I will miss you a lot. You were my Sunshine". Jerry
Mother of Christopher Lefebvre and Grandmother of Little Christopher and Victoria, Stepmother and Grandmother of Steven and Melodie Neirinckx (Ethan, Sophia, Ella and Brody) Stephanie and Louie Robles (Olivia and Charlotte) and C.J. and Mallory Neirinckx.
Sister of Shirley Samuelson (George) and Hugh Fraser (Gie) and son Liam.
Daughter of the late Hugh and Kathleen Fraser.
Preceded in death by her sister Colleen Gillies (Doug)