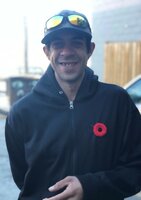 Shawn Douglas Bates
We are overwhelmed with sadness to announce the sudden passing of our loving Brother Shawn Douglas Bates of London Ontario.
February 2, 1991 - December 8, 2021
Shawn Bates left this world suddenly on December 8 He would have been 31 years old on February 2nd.
So many people will ask..the "how" behind why he passed away. But it really does not matter. He is gone and we are at a loss and heartbroken. It was the imprint he made, the many, many witty one liners he shared, the compassion he extended towards those he cared so much for, the way he lived..that is the real content that counts not how his life ended.
Shawn Left behind his sisters nieces and nephews. Kristi (Tom) Quinntin, Tristan, Serenity-Ann, Tommy Sebben Amanda Buckley & Tinsleigh His Cousin Sabrina Uncle Kevin as well as many family and friends who loved him so much. Shawn had a love for Big Macs and peaches. Always believing in the very best of people. He would point out how kind others were being. He was so grateful for the people around him and his street family was important to him. His perseverance to be better and do better always gave him the force and drive to never give up. He wanted more and was willing to keep trying over and over again. He was the definition of a survivor. The way he made you feel important would take anyway any pain you felt in that moment. How he would defend the ones he loved and go to the ends of the earth to keep them safe. 4 days before he passed Shawn Bates saved a life. And if you were to tell him you needed his help, he would have been there to support you in a split second. That was a big part of who Shawn was, and will be remembered as that person forever.
Cremation took place December 17 2021
Donations can be made to Project Hope London or Ark Aid Mission in Shawn's Name.
These places brought light and love to his heart and these organizations were very important to him. We thank them very much for being there for our brother and caring for him.