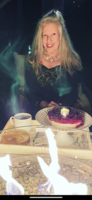 Paula Ellen King
Paula Ellen King (nee Moir) passed away on January 6, 2022 at the age of 71 at St. Joseph's Hospice in London, Ontario. She will be dearly missed by her children, daughter Minette Klazinga (husband Andrew), son Isaac Robinson (partner Madison Tunstall and granddaughter Valerie). She was the cherished sister to Denise Tew (husband Mike), Glenna Eayrs (husband Brock), Joe Moir (wife Francesca, daughters Emily, Melissa and Natasha), and Joel Moir. Predeceased by her parents Joseph and Lillian Moir (Hamel), brother Gilbert Moir, and sister Laurel Moir.
Paula was a one-of-a-kind woman, who loved deeply and cared intensely for animals, and people alike – particularly those in difficult circumstances. Her smile was sparkling, always with a perfect application of her signature red lipstick. She loved to sing and dance whenever to mood would strike. She truly had a way of lighting up a room in her own special way.
Many described her as a kind warrior, having overcome many difficulties in her lifetime and still being able to smilebrightly. Paula was very artistically creative, making beautiful pieces of stained glass, painting and drawing unique pictures and was an extraordinary gardener. She enjoyed creating spectacular gardens at the many places she lived, brightening the green spaces of apartment buildings and townhomes across the city, wherever she lived. She was a great cook, able to make delicious meals out of even the most basic ingredients, and loved to dole out large portions of her epicurean creations to family and friends.
Above all else, Paula held strong in her Christian faith, believing that God would make a way in every situation. She was always ready with a bible verse to match any of life's moments.
Cremation has occurred and a private family Celebration of Life will be held at a later date. In honour of Paula, donations may be made to St. Joseph's Hospice in her memory. The family would like to extend sincere thanks to Paula's dear friend Heather Pageau, to the incredible palliative care team at St. Joseph's Hospice, as well as to the cancer care team at the London Regional Cancer Program at London Health Sciences, and in particular Dr. Robert Dinniwell who all provided tremendous care and support to our loved one.