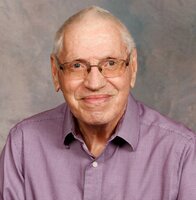 William Bernard "Barney" McCann
William Bernard McCann, affectionately known as "Barney", passed away peacefully at St. Joseph's Hospice with family at his side. Barney was born March 8, 1941, in Woodstock, Ontario to Cedric and Helen (Boughner) McCann and lived in London, Komoka and Melrose. He passed away in his 81st year on January 7th, 2022.
Barney was an only child who attended Medway High School. He spent his entire career at London Life Insurance Company where he worked for 39 years. While living in Komoka, he was involved with the Optimist Club and many different roles at the Komoka Community Church. He was a current member of West Park Church in London.
Barney met and married his best friend, Diane, in Grand Bend, Ontario. They were married 56 years. Barney loved spending time at the beach – walking for miles and collecting beach glass. In retirement, Barney and Diane were able to enjoy winters in Florida. They loved visiting with their grandchildren in Ontario, Minnesota, and Wisconsin. He enjoyed playing games with friends and his grandchildren and planning his big trips. He enjoyed numbers and could spend hours in his den working on budgets, and finances.
Barney is survived by his wife, Diane and three children Stephen (Nicole) McCann, Leanne (Steve) England and Averil Shadd (Joshua Shadd, d.2018) and 7 grandchildren Matt (Sophia), Luke, Ellie, Will, Elizabeth, Julie and Sam. He is also survived by members of his extended family and many special friends!
Barney was friendly to everyone he met, he was always smiling, and was a true, kind gentleman. His journey on earth has ended but his journey in heaven has just begun!
A small, private family memorial service was held and plans for a celebration of life are pending. In lieu of flowers, donations can be made to St. Joseph's Hospice of London.