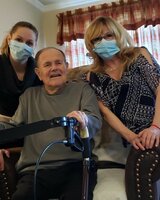 Steven Joseph Daschuk
DASCHUK - Steven Daschuk, 94, died peacefully through the night after having spent the day with family at his side, in his retirement residence at Arbor Trace, London, Ontario.
In addition to his parents, he was predeceased by his youngest daughter, Judy (Moe Giroux), his wife, Reta (nee Boyce), as well as all siblings except Rose Langley of Ottawa. He is survived by his daughter, Rosalind Daschuk (Bill Isaac), and granddaughter, Andrea Giroux (Brandon Szarabura). "Mr. D.", as he was affectionately known by the Martin family, could always be relied upon to lend a helping hand and give wise counsel. He will be deeply missed by them all.
Steven was born in Harris Township, worked in New Liskeard as a butcher at the local grocery store, and held jobs as a short order cook in a forestry work camp, then found his true calling as an excellent home builder. He moved to Timmins, Ontario five years after having his two children where eventually he and his brother, Bill, and a friend formed a contracting company building not only residential homes, but also an A&W restaurant and the Timmins Cinema. He enjoyed renovating his primary residences, then built several from the ground up. He also enjoyed making furniture for his family, gardening, team bowling, boating, hunting with friends, and for many years, spending time at the cottage he built, next to his brother, and near their friend.
Although Steven was not a man of many words, he was well read, had his opinions, and was not shy about sharing them. He had a soft spot though when it came to his immediate family and would offer his point of view when asked, but never passed judgement. He always appreciated seeing his nieces and nephews at family reunions, as he came from a large family of eight. His granddaughter held a special place in his heart, having spent many sleepovers and card games with "grampy". He always made a point of attending all her soccer games as well.
Steven will be cremated at Woodland Cemetery. The family has chosen to forego a funeral service, but donations to the Heart and Stroke Foundation would be appreciated.