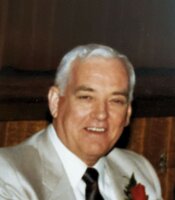 Harley James Merkley
Harley James Merkley, of Paris Ontario (and formerly of Wingham) passed away on January 20th, 2022 at the age of 91. Harley was the beloved husband of Barbara Merkley.
Loved Father of Cathy Leblanc (Gib), and Kevin Merkley (Dianne).
Cherished grandfather of Matthew Pineau and Wyatt Merkley (Nicole). Great grandfather of Jordyn.
Predeceased by his siblings Ernest (late Rita), Elmer (Anna), George (Phyllis) and survived by siblings Paulene Bennett (late Ronald) and Sharon Adams (James).
Survived by several nieces and nephews.
Born in a log cabin on the family farm outside of Wingham Ontario, Harley farmed and worked as a licenced mechanic in Belmore before marrying the love of his life, Barbara (Templeman) in 1950. Harley joined the Ontario Provincial Police in 1954. As an officer he served in Cornwall, Winchester, Kemptville, and Ridgetown before retiring as a Staff Sargent and Detachment Commander in Brantford.
Harley will be remembered as a larger-than-life persona. He commanded the attention of those around him and earned respect from those under his command. His eye for detail is aspirational - He could sit and talk about anything, and his curiosity about any number of subjects led to him being an excellent listener.
Harley was a great storyteller with a keen sense of humour; and family was incredibly important to him. He took joy out of participating in a number of charitable groups: he was a member of the Legion, Lions' club, a Master Mason, and a long time Shriner. He was an excellent father, grandfather, and great-grandfather, and will be greatly missed by those who he took the time to drive around, sit with, make jokes to, and to talk with about how the world works.