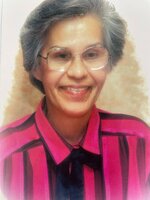 Phyllis Gwendolin Gairns-Ellis
With heavy hearts we share that on February 21st, 2022, Phyllis Gairns-Ellis passed peacefully from this world at the age of 83 with her son and Reverend by her side.
Phyllis lived a full life on three continents and was blessed to share many years with her friends and family. She will be joining her late husband, Stanley Gairns-Ellis after too many years apart.
She is survived by her son Jon Gairns-Ellis (Lyndsay) and grandson Max Gairns-Ellis. Dear sister of the late Dorothy Anderson (late Walter), Mona Rawlin (late Buck), Daphne Maseyk, the late Mervyn Maseyk, Evelyn Elliott, and Cybil Jefferies (late Jeff). Also survived by a number of nieces and nephews.
In lieu of flowers, the family is requesting Phyllis be honoured with donations made to the church that meant so much to her, St Paul's Cathedral at https://www.stpaulscathedral.on.ca.