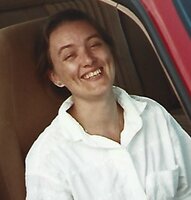 Selina Lai
In Memory of
Selina Lai
1959 - 2022

With heavy hearts, we announce that Selina Lai (née Petrie) of London, Ontario, passed away peacefully on Thursday, April 21st. Ultimately, succumbing to the lung cancer, she had been diagnosed with a year earlier.

On January 19th, 1959, Selina was born to Maurice and Marion Petrie in Lincoln, England. The family immigrated to Canada, settling in Toronto, Ontario. Years later, Selina met the love of her life Tony Lai and on July 2nd, 1982, they were married. The pair settled in London, Ontario, to be closer to Selina's family.

Selina was a talented artist, which manifested across various mediums throughout her life. She adored the people she cared for across her 20-year career as a PSW. Selina also loved her family and is survived by her three brothers, Maurice, Stewart and Ross. In addition, she loved and was very proud of her nieces and nephews, Mathieu, Megan, Asia, Alexia, Clayden, Connor and Patrick. Finally, Selina's love for her husband is reflected in her last words to him, "I love you, baby."

The family has opted not to hold a public service but will be holding a small intimate gathering of family to celebrate her life.