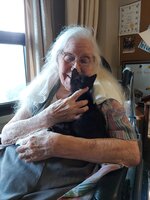 Kay Larsen
Kirsten (Kay) Larsen, nee Lindor-Holm. Born in Copenhagen, Denmark has
passed away at the age of 94 on April 25th. Kay is survived by her
children Liza, Karen, Jack, Tom, Peter and Arne. Predeceased by her
daughter Lillian and grandsons Steven and Zachary.
Kay immigrated to London, Ontario, Canada from Sweden with her young
family in 1956. She eventually put herself through school to become an
electrolysis technician, a career she enjoyed well past retirement age.
She had a great love for animals of all types, especially her dog
Skipper.
Kay was a long time resident at Craigwiel Gardens. Her family would like
to express their utmost gratitude for the wonderful loving care ALL the
staff gave her. They were her extended family and they are amazing!
Thank you to Dr. Whynot for everything.
Cremation has taken place. A private service will be held at a later
date.
Donations to the London Middlesex Humane Society in Kay's name would be appreciated.