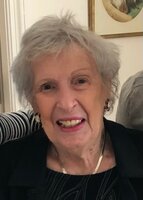 Pauline Florence Wrong
It is with great sadness that we announce the loss of our beloved mom Polly, who passed away peacefully in her 93rd year surrounded by family on May 12, 2022.
Polly was the youngest of three children born to Raymond and Florence Potter in Toronto. She graduated from Western University in 1953. While rehearsing for Purple Patches she met her future husband Martin L. Robinson. Polly, who was the "Queen of the Ball" in 1952, always loved Western and never missed a reunion. After she and Marty divorced, she married her high school sweetheart Ken Wrong. They lived in Italy for many years where they welcomed friends from all over the world.
Polly was passionate about the arts. She served for many years on the Women's Committee to the London Public Library and Art Museum. She was instrumental in encouraging and promoting regional artists, including Clark McDougall and Greg Curnoe, and she donated many works of art to the McIntosh Gallery. She loved both playing and watching tennis, especially when Federer was centre court. She was a great bridge player and a fantastic dancer. She advocated for religious equality in public schools, and opposed censorship in school libraries. Her sense of social justice combined with her enduring kindness are a lasting legacy.
Polly loved her family and friends. Hosting sleepovers for her grandchildren, serving them her famous Mac 'n Cheese, and providing an endless supply of blankets for their elaborate forts were just some of the joys she shared with her grandchildren. She had a slew of friends dating back to childhood—if you were a friend of Polly's, you were a friend for life!
Polly is survived by her four daughters Michele, Lisa, Megan (Morris), and Kristyan, her step-daughter Kimberly, her grandchildren Robinson, Alex, Victoria, Laura (Conor), Jenifer (Drew), Emma (Connor), Juliana, Shorai, Kuda, and six great-grandchildren, as well as her Craig and Potter nieces and nephews. She is predeceased by Ken Wrong, her brother Ralph Potter, sister Norma Craig, brother-in-law George Craig, nephew Barry Craig, and niece Sue Craig.
Polly taught us to tip well, treat everyone the same, and look out for the little guy. And when the going got tough, she encouraged us with her family motto—"keep the faith!"
Burial will be private at Woodland Cemetery. A celebration of Polly's life will take place at a future date. In lieu of flowers, please consider a donation in Polly's memory to the Humane Society London & Middlesex (www.hslm.ca).
The family invites you to share fond memories at woodlandcemetery.ca.