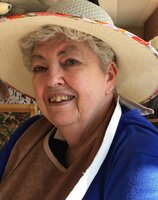 Norma Ilene May Rouse
Norma Ilene May Rouse (Cowan)
July 1, 1940 – May 23, 2022
Norma passed away peacefully on Monday May 23rd, 2022 in her 82nd year at Woodingford Lodge from complications resulting from COVID.
She joins her husband John Duncan Rouse predeceased on Sunday March 21, 2021. She survived by her three sons, John Daryll Rouse (Victoria Nethercott), Shawn Michael and David Isaac. Her Grandchildren, Katherine, Stephen, Tessa and Jacob, Her Great Grand Children Autumn and Dakota. Her siblings Bill (Sue) Cowan, Carolyn (Anton) Jopko and Warren Cowan along with many in their extended family are in mourning over our loss.
Predeceased by her Mother Kate Josephine Cowan (Wright) on Oct 30, 1987 and Father Garnet Isaac on June 4, 1986
The family wishes to express their gratitude to the Staff and Volunteers of Woodingford Lodge, Woodstock who provided Norma with the best family level care available for the 6 years she resided under their love and care prior to her passing. Thinking back it was just over 1 year after John passed and prepared a place for her in eternity plus one day. Definitely a most enduring statement of their almost 60 years married together. We want to thank you all with our deepest gratitude!
Norma will be cremated according to her wishes and the immediate family is planning for a time hopefully soon when a celebration of life will be held. The family appreciates that donations in her name can be made to the Woodingford Auxiliary so they may continue their efforts supporting the residents.
When Tomorrow Starts Without Me – by David M. Romano

When tomorrow starts without me
And I'm not here to see
If the sun should rise and find your eyes
Are filled with tears for me
I wish so much you wouldn't cry
The way you did today
While thinking of the many things
We didn't get to say
I know how much you love me
As much as I love you
And each time you think of me
I know you'll miss me too
But when tomorrow starts without me
Please try to understand
That an angel came and called my name
And took me by the hand
And said my place was ready
In Heaven far above
And that I'd have to leave behind
All those I dearly love
But when I walked through Heaven's gate
I felt so much at home
When God looked down and smiled at me
From His great golden throne
He said this is eternity
And all I promised you
Today your life on earth is past
But here it starts anew
I promise no tomorrow
For today will always last
And since each day's the same way
There's no longing for the past
So when tomorrow starts without me
Don't think we're far apart
For every time you think of me
I'm right here in your heart