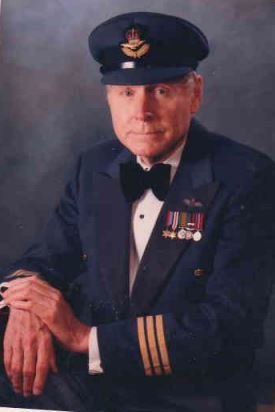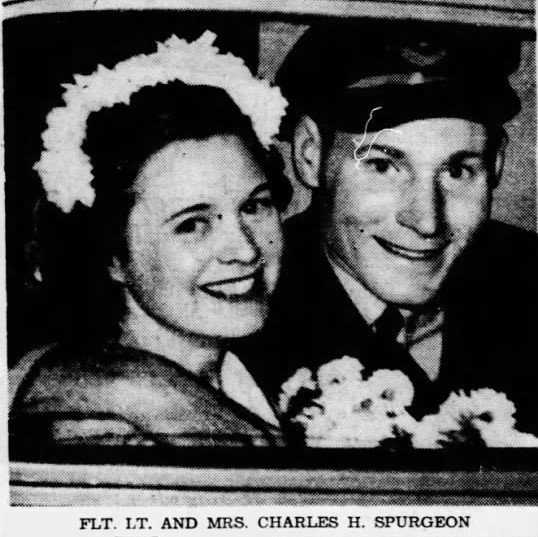 Obituary of Charles Haddon Spurgeon
Spurgeon, Dr. Charles Haddon
Charles, Charlie or Chuck, was born and raised in Windsor, Ontario. He was an active student at Walkerville Collegiate excelling in sports, including gymnastics, lacrosse and cycling.
He had a passion for aviation, starting when he obtained his private pilot's licence in 1940. This passion led to his service with the RCAF during World War II, where he served four and a half years as a pilot, assigned to the European theater with 400 Squadron, flying many different aircraft, most notably the Supermarine PR Spitfire Mk XI to conduct high-altitude (up to 41,000 feet) air reconnaissance missions. A gifted navigator and aviation teacher, he instructed on advanced courses to train new cohorts of aviators for the war effort.
After the war, Charles married the love of his life, Sybil Rosaline "Roz" Spurgeon, and they had two children, Stacie (Jamie) Littlejohn and Paul (Sandy) Spurgeon. Before starting his family, he obtained his Bachelor's degree followed by his Medical Degree (both from Western). He was elected the permanent class President of Meds '52. He continued to fly during medical school, including working as an executive pilot. His medical school education led him to a fulfilling career in medicine starting in 1953. As a physician, he was a certified member of the College of Family Physicians (CCFP) and the OCFP. He was also a member of the OMA, CMA, and was a life member of the London and District Academy of Medicine. He practiced medicine for over 55 years and specialized in occupational and industrial medicine, and aerospace medicine. His practice in aerospace medicine led him to assessing thousands of people over the years for their private, commercial, and airline transport licences.
Charles was a proud member of the Academie Internationale de Médecine Aeronautique et Spatiale, the Canadian Aerospace Medical Association, and was an Aerospace Associate Fellow. He was also a civil aviation medical examiner for the Canadian Department of Transport and a senior examiner for the F.A.A. Along with his practice in family medicine, and his specialties in aerospace and industrial medicine, he was a medical officer for Air Canada and the CNR for over three and a half decades. Additionally, he worked as the Medical Director for Northern Telecom and was also a medical officer for Air Ontario.
At the start of his medical practice, Charles continued to serve as a pilot in the RCAF (Air Reserves) in 420 Squadron. During this time, he was on the aerobatic team. He also piloted many military aircraft including Mustangs, Harvards and T-33 jets. He transferred to the Medical Officer military occupation, where he became a qualified Flight Surgeon, and served as the Wing Medical Officer for 420 Fighter Squadron and 4220 Radar Unit. In 1957 he was promoted to the rank of Wing Commander and with over 10 years, retired from service. He remained an active member in many associations, including the Canadian Fighter Pilots Association, the Air Force Association of Canada, the Canadian Warplane Heritage Museum, and the Canadian Harvard Aircraft Association.
He continued to pursue his passion for aviation after his retirement from the RCAF and throughout his medical career, even flying in his 90's. He held a Canadian Ministry of Transport, Airline Transport Licence, flying over 35 different aircraft including, DC-3s, DC-4s, Hansa and Cessna Citation jets all of which he logged over 8,000 flying hours.
After retiring from medicine, he spent his time with Roz, and continued to pursue many interests, including Roz's horses, playing the flute, oil painting, reading, languages and membership in the London Jazz Society. Chuck loved nothing more than sharing a good story, telling a well-executed joke, and having a laugh with his family around the dinner table. He was rarely seen without a cravat or monogrammed handkerchief, a consummate gentleman in both his personal style and life.
He was the proud grandfather of Charlotte (Matt) Lindsay, Mac (Maryjane), Peter (Sarah) and Garret (Ashley Makela) Littlejohn, and Kate (Boyd) Hale, Dave (Véro Gilbert) Spurgeon and had nine great grandchildren. In his 100th year of life, he passed away peacefully at the Veteran's Wing of Parkwood Hospital London, Ontario on February 28, 2021. Chuck will be deeply missed by all who knew and loved him, but fondly remembered by the twinkle in his bright blue eyes and his gentle strength, wit and charm.
In lieu of flowers, donations can be made to 'My Sister's Place', for women in crisis, London, Ontario.