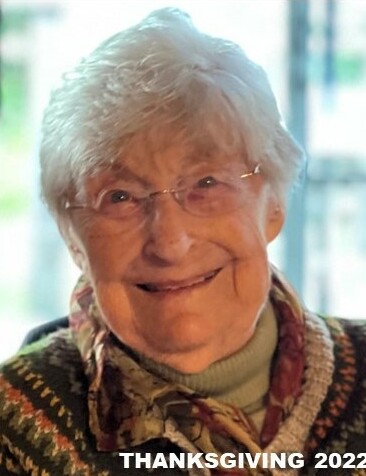 Obituary of Eileen Odegaard
Eileen Louise Odegaard passed away peacefully in her sleep at home on November 17, 2022 in her 98th year. Eileen was a loving mother, warm friend to many and beloved matriarch of four closely knit generations. Predeceased by her husband, Kristian (1975), and eldest son, Conrad (2019), she is survived by her brother Bud Martus and his wife Marie, by sons Rick, Paul, Jim and daughter Ginny Peters and by their spouses Betsy, Sandra, Judy and Larry. Unforgettable Granny and G-G to ten grandchildren and thirteen great-grandchildren.
Eileen was born in Toronto in the summer of 1925 to Hiram and Ann (Round) Martus. She began her journey as a life-long learner at Harbord Collegiate during WWII. She played basketball for a team sponsored by Simpsons department store and travelled Ontario for exhibition games. Following graduation, in 1943, she married Kristian, a young Norwegian seaman training at Toronto's war-time Little Norway.
She fell in love with all things Norwegian—family, food, arts, landscape—and travelled there many times. Eileen was known for outstanding and prolific knitting and crocheting. Family and friends treasure her Norwegian sweaters and original creations.
After living in Toronto, Perth, Lucan and London, Kris and Eileen settled on a then-rural property at 433 Hyde Park Side Road to raise their children. When Kris had a debilitating stroke in 1965, she worked tirelessly to maintain the household. Her work eventually led her to Western's Awards Office, to the purchase of a farm in Huron County, and then to partnership in Grains, Beans and Things, an early natural food business. Her energy, business instincts and personal warmth helped to make GBT a great success.
Eileen loved people. She made friends wherever she went and maintained those friendships, some of them from childhood, over distances and decades. She delighted in 433 as a hub for friends and family. As her children moved away, she boarded students, some of whom became like family. For many years she welcomed bed and breakfast guests into her home.
In retirement, Eileen travelled, often with grandchildren, gardened, played expert bridge, read voraciously and laughed with her book club friends.
Home, in recent years, was the Gartshore Apartments, where she was able to stay until the end, with the excellent care of her medical team, LHIN and At Your Service For Seniors.
Private family Interment at Woodland Cemetery.
A celebration of Eileen's life is planned for December 10, 2022 in the afternoon.
In Eileen's memory, please consider planting a tree or donating to Unity Project for Relief of Homelessness in London.