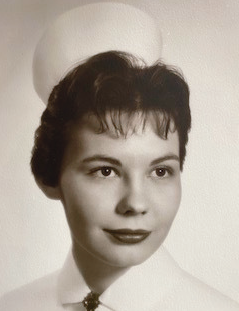 Obituary of Lola Kelley
KELLEY (SOUTHCOTT)
NE. Hoffner, Lola Bernice
Feb 8, 1939 Nov 20, 2022
Lola passed away peacefully, Sunday November 20th at the Bennett Centre in Georgetown, Ontario.
A long time London resident, Lola moved to Halton Hills in July of 2021 to live with Tom and Tam at the Farm and be closer to her family. She moved to the Bennett Centre in August of 2022. Dear mother of Tim and Tom Southcott. Tim is married to Aida (ne. DaCosta) his wonderful loving partner and Tom is married to Tamara Amabile (Tam) who is his soulmate and special in so many ways. Aida and Tam were daughters to her and she enjoyed so many adventures with them including special celebrations like their trip to Paris, France for her 70th birthday. She was much loved Grandmother to Tim and Aida's children Pierce and Emma and Tom and Tam's girls Tara and Becca. Lola was proud of her long career as a nurse, finishing her work at the London Cancer Clinic. She was so grateful for the wonderful care she received there when she herself was treated for nonHodgkin's lymphoma. Ever the fighter, Lola was their miracle patient surviving the cancer for almost 30 years. Lola was a voracious reader and a life long learner, returning to University in her 50's to continue her education. She is survived by her sister Marjorie (Bud, deceased), sister-in-law Donna (Bill deceased) and brother Fred(Linda). Her wit, strong will and fierce love of her friends and family will be remembered and profoundly missed by all who knew her. Lola was one of a kind.
Lola was cremated as per her wishes and a celebration of life will be held at a later date in the new year at the Green Hills Golf and Country Club. It should be noted that many parts of this obituary were written by Lola herself.