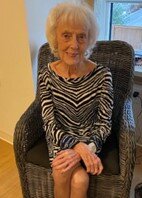 Obituary of Betty Morris
Betty (Nancy) Morris (née Byford)
September 14, 1931 - April 4, 2023
Betty Morris passed away peacefully in London, Ontario on Tuesday April 4, 2023 at the age of 91.
Betty is predeceased by her husband Jack, sisters May Linklater, Dorothy Sim and Edna Harding and her brother Arthur Byford.
Betty is survived by her 3 children Karen Gibson (Doug), Randall Morris (DeAnna) and Kelly Zakarow (Bill). Betty is also survived by her grandchildren Gillian Romero (Nate), John Henry Morris III, Jade Harper (Justin), Courtney Zakarow (Douglas Callan) and Clark Bandemer as well as a niece and 2 nephews.
Betty was born in Ottawa, Ontario and worked at Metropolitan Life until she started a family. Betty co owned and operated Jodi Fashions, a ladies clothing store, in Northland Mall, London.
Betty was a longtime member of The Salvation Army London Citadel.
Betty and Jack loved to travel and spent many winters enjoying their Clearwater, Florida home.
A special thank you to Betty's nephew Geoff Linklater and his wife Laurie Hamilton of Ottawa, Ontario for all your love and kindness during her final years.
A special thank you as well to Fox Hollow Retirement Home. The staff loved and cared for both Betty and Jack.
Betty, Mom, Nana, you will be forever missed.
Donations to Alzheimer's Society of London and Middlesex would be greatly appreciated (copy and paste this link into your web browser: https://alzswp.ca/)
A Celebration of Life will take place Saturday May 6, 2023 at 11am at The Salvation Army London Citadel, 555 Springbank Dr., London, Ontario