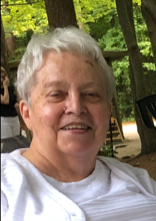 Obituary of Shirley Marie Wardell
Shirley Marie Wardell (Vail)
February 2, 1943 – August 14, 2023

We announce with sorrow the passing of Shirley Marie Wardell (Vail) on Monday August 14, 2023.

Born in Strathroy and raised by her parents Campbell Woodward Vail and Jean Alice Oliver on their farm, in Lobo Township, Ontario. Shirley met the love of her life Robert Lorne Wardell at a dance in Coldstream and began a 58 year journey on July 10, 1965, a journey of love and devotion. Shirley's passion was to become a teacher educating the young, which began in Delaware and then to London. Her joy was playing music on her piano and we were spoiled with her talents. Shirley gave her unconditional love and patience to her children, Sean (Melody) and Brian Keith (Heather Claire Hainer). Remaining also to honour Shirley are her grandsons Dominique Poirier and Quin Wardell (Sean & Melody). She is also survived by her loving brother Raymond Campbell Vail and his wife Carol. Also survived by her niece Sally Wickie (Vail) and by her nephew Sam Vail and their families. Missing her dearly is her sister-in-law Ellen and her husband David Lyons.

While sorting through Shirley's memories Robert found a message that Shirley had penned for her family, which they would like to share. 'I went to Heaven last night and I would like to leave a message for my dearest friends and family. Usually if something is broken or lost, it can be fixed or replaced; when I lost a loved one it left a permanent hole in my heart. I cherish my family; none of them can ever be replaced. I also cherish life and appreciate my family and friends and all the other precious gifts that life has offered me. No matter how bad I think things are, I remember they can always get worse, so I treasure what I had while I could. Death is not the opposite of life but a part of it. Death ends a life, not a relationship. My friends and family were beside me in my darkest hour. It is not what one takes out of life that increases happiness but what one puts into it. I was reminded of something Winston Churchill said, "Success is not final, failure is not fatal, it is the courage to continue that counts." Nothing is really lost as long as you remember it. Until we meet again, I pray that you put your trust in our heavenly Father. That is why I am on my way to Heaven, to dwell in his house forever.'

Those wishing to make a donation in memory of Shirley are asked to consider the charity of your choice.