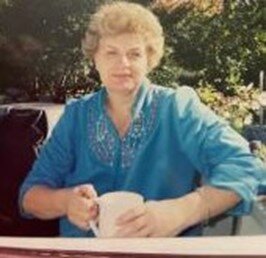 Obituary of Karin Nother
Karin "Lini" Listner Nother in her 82nd year passed away, embraced with compassionate care at Southbridge Retirement Home in London, ON, Canada on the morning of Monday, October 23, 2023. Beloved wife of James Nother in their 12th year of marriage. Dear mother of Michelle Hoffman and predeceased by her sons James Kelly and David Kelly. Loving grandmother of six grandchildren and one great-grandchild. Survived by her brother Stefan of Germany and predeceased by seven brothers.
Karin was born in Bakonyjako, Hungary in 1942 to parents Jahannes and Julianna Listner. Karin and her mother emigrated to the United States of America in June 1956 from Germany. She was married to the late Terrance Kelly in 1963 and raised her children in the State of New Jersey.
She will be sadly missed by her family and extended friends that she met throughout her journey in life. A Celebration of Life will take place on Monday, October 30, 2023, at Holy Family Parish, 777 Valetta Street, London, ON with visitation from 9:00 – 10:00 a.m., followed by a Memorial Mass at 10:00 a.m. There will be a livestream link for Karin's Mass at: https://www.youtube.com/live/9dacPQTnnjs?si=zDpgZf8TsC0gSF64. Lunch will be served following Mass in the hall at Holy Family Church. Burial to take place on November 17th, 2023 in New Jersey. To express sympathy, please forward condolences to James Nother at: Nother2345@gmail.com.