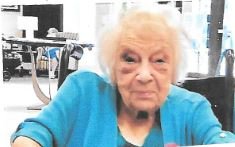 Obituary of Lydia Gigun
On Thursday, December 3, 2020, in her 101st year our Mother and Nana passed away peacefully at the McCormick Home in London, Ontario. She will be darly missed by her son Larry and his wife Pat and her three grandchildren Gail (Gary), Brian (Airlee) and Brad (Cori). She was a special Nana to her six great grandchildren, Joclyn, Taylor, Keira, Mackenzie, Elizabeth and Samantha who have many special memories of the times spent with her.
Lydia is predeceased by her husband Alex in June 1979 and her sister Hazel and her brothers Fred, Willis and Elisha, her sister in law Kaye and brother in law Paul, all of whom resided in Saskatchewan.
Lydia is survived by her sister Helen and her sisters in law Sonja and Elma and brother in law, Mike together with several nieces and nephews., She will also be fondluy remembered by her many friends in Niagara Falls, Ontario and by many of our friends in London, Ontario.
Lydia was born on July 31, 1920 and raised on a farm in rural Saskatchewan where she grew up with her two sisters and three brothers.
Lydia married her husband Alex on November 2, 1941 after which they moved to Niagara Falls, Ontario where they settled and raised their son, Larry. Lydia worked at the Niagara Falls General Hospital for some forty years, rising to the rank of head Food Supervisor, until her retirement in 1985.
Lydia enjoyed gardening, cooking and travelling. Her flower gardens burst with color every summer and were admired by all and given her Ukrainian background she made the tastiest perogies and cabbage rolls. Her travels took her to Hawaii on numerour occasions but her most cherished trip was to the Holy Land.
Lydia moved from Niagara Falls to London in November 2012 to be closer to her family and made many new friends while enjoying life in the Royalcliffe Retirement Residence until being relocated to the McCormich Home, Long Term Care Facility in November 2020. We appreciate and are thankful for the exceptional care she received from the doctors, nurses and psw's at both the Royalcliffe Retirement Residence and the McCormick Home.
Cremation has taken place and a memorial gathering will be arranged at the Lundy's Lane Cemetery in Niagara Falls, Ontario at a later date.
Remembered forever. Rest in Peace.