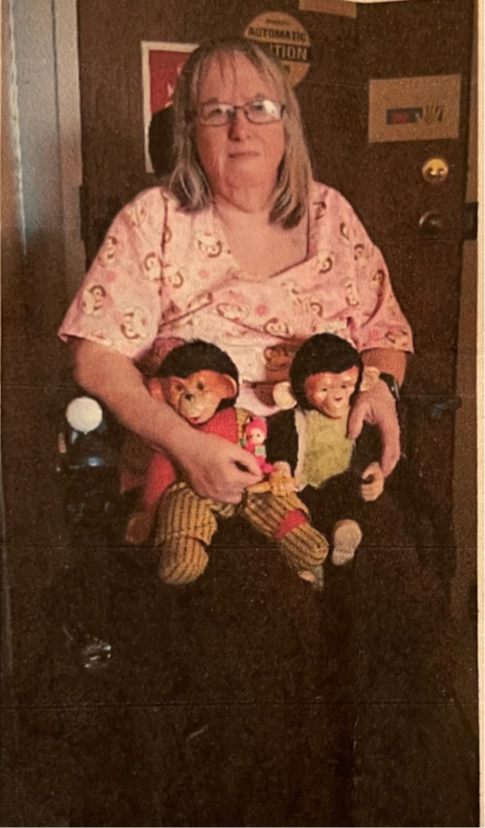 Obituary of Brenda Jo Ann White
Brenda Jo Ann White
White, Brenda Jo Ann from London Ontario passed away peacefully in the early hours of July
13, 2021 at her place in Windsor Ontario. She died from cardiac arrest. She was 65.
"B" or "Auntie B", as she was known, leaves behind her brothers Bill White (Gale), Wayne
White (Barbara), Brian White (Marleene); nieces, nephews, grandnieces, grandnephews and
well known cousins that Brenda kept up with; the foster children who had helped fill the
partially empty nest of the White family after they'd had to leave sons Bill and Wayne in
Vancouver to complete their education there; the Yoner family Brenda had become like family
and lifelong friends with when she lived in Regina, Saskatchewan for thirteen years, Brenda's
Rogerson birth family members that she was in regular touch with, missionary friend Dianne
Estabrooks; and her homecare worker, Andrea McKenzie who, in the seven years she had
lovingly served Brenda, had become a true and trusted friend.
Predeceased by her parents Wilson and Dorothy White (Nan & Pops) of London Ontario, Uncle
Andy and Auntie Mary Craven of Chatham Ontario, and Uncle Ron and Aunt Jackie (Din) White
of Mississauga Ontario.
Brenda will be fondly remembered for her unique and fun approach to life that stayed with her
throughout the life limiting health problems that came her way. Like when her youngest brother,
Brian, witnessed her sounding out the word "Philcoe" on their refrigerator it became a lifelong
point of humour between them. Christmas cards to Brian were signed "to Philcoe" and her
email address became philcoe.bjwhite…Christmas became a fun thing for the whole family
with the 100 day countdown and wondering what Brenda was going to come up with this year!
One year among her unique and thoughtful gifts, it was chocolate covered bugs!
Brenda was an organizer who liked to organize fun things, like the Animal theme party she held
for the kids at her Nan's place in London, Ontario. Everyone had to wear a T-shirt with an
animal on it, and, as always, there were lots of fun and games for the children.
Brenda loved monkeys and what could be more fun than that! She had hundreds of stuffed
ones, and she had access to a live one. Thus, she was buried with her two longtime favourite
monkeys in her monkey pyjamas —that she wore to her dialysis sessions three times per week
where she had recently celebrated a record 2000 sessions. Her tombstone bears a picture of
her holding her beloved live monkey.
Brenda also loved machines and had a lot of fun with them. She loved her VW Beatle that had
been passed along to her, in which she had installed a shortwave radio that she had a blast
with, using her "handle" to communicate with all the truckers on the road.
Next, she loved her computer that soon became overloaded with all the genealogy and biblical
work she was doing. Brenda's first beloved instrument had been the piano, but now it was the
computer.
She loved the power scooters that became necessary when her legs gave out. She
accumulated a few of them. She loved her "Jazzies", as she called them. She loved her power
desktop that could go up and down from a standing to a sitting position.
In 2017 Brenda wrote on her Christmas letter "I try every day but do not always succeed in
allowing the Son to direct my destiny each day. Whether it be here at home, or at the hospital I
try to bless someone each day with a blessing of thanks, a smile or even a chuckle."
There will be a Celebration of Life Service for Brenda to follow in a couple of months, burial has
taken place.
Please feel free to post photos that you may have of Brenda.
To send flowers to the family or plant a tree in memory of Brenda White, please visit Tribute Store
Burial
1:30 pm - 2:00 pm
Thursday, July 15, 2021
Woodland Cemetery
493 Springbank Drive
London, Ontario, Canada
519-471-7450