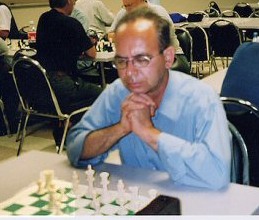 Obituary of David St Clair Jackson
David St.Clair Jackson
September 18 1953 - July 30 2021
David passed away peacefully at peopleCare Oak Crossing Long Term Care on July 30, 2021. David is survived by his parents Evelyn and Melville Jackson, sister Sandra (Aldo) Covelli, uncle Douglas (Alison) Jackson, niece Kristina (Dino) Covelli Lopez, nephew Joel Covelli, great nephew Kruz Lopez, great niece Rielle Lopez.
David's passion was Chess. He loved Thursday evenings with his friends and Chess family at the London Chess Club. David was a very accomplished player. He was a Chess Master with a rating in the top 1% of players in Canada. His games were regularly published in various Chess magazines for others to study. He was well known in Canada for his brilliant play. His Chess colleagues described him as a genius, a tactician, maniac player dominating the board, setting traps and always so much fun to play. Everyone wanted to play David.
David won multiple championships and tournaments in Classic Chess, Speed Chess and Active Chess. His first championship was with the German Club Mens Team in July 1967. He was 14 years old. In November that year he was one of the 25 tables that the World Champion Boris Spassky played in Toronto. David also served terms as President of the London Chess Club.
David is remembered for his wonderful and witty sense of humour, big laugh, and admired for his kindness. He will be sadly missed. Many thanks to the care givers at Parkwood Hospital, and peopleCare Oakcrossing for their loving and kind care.
Interment is at Woodland Cemetery, 1pm August 6 2021. Donations may be may in David's memory to the Heart and Stroke Foundation.