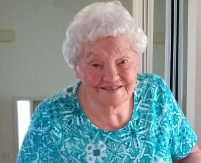 Obituary of Juliana Bernadowitsch
It is with great sadness to announce the passing of Juliana Bernadowitsch, a wonderful wife, mother, Oma and friend to many. Juliana passed away at Parkwood Institute, Palliative Care Unit on Saturday, November 6, 2021 at the age of 98. She was very active her entire life even up till a month before her death.
Juliana is predeceased by her beloved husband Vincent (2005), and her two beautiful daughters Margit and Etta (1977). She will be dearly missed by her loving children Heidi Nold (Garry) and Gary (Francesca), her cherished grandchildren Nicole, Ceara, Cameron, and Julianna who brought her great joy and held a special place in her heart, she was so proud of them. She will also be missed by her family in Austria.
Juliana was born in Austria, where she met and married her loving husband Vincent in 1949. They took the brave step to leave their family and come to an unknown country across the vast Atlantic Ocean and immigrated to Canada in 1952, settling in Sault Ste. Marie, ON. Life in Canada was not easy the first few years, Juliana learned a new language, embraced a new culture and worked extremely hard for a better life for her family. Juliana and Vincent made great friends and had lifetime friendships with the families of Maier, Wobbe, Weber, Grave, Sauerzopf, Schoeffman, Rebek, Huntenburg, and Galka who are considered family and shared much laughter and lasting happy memories. She loved spending winters with her husband and friends in Yuma, Arizona for 20 years with side trips to Las Vegas, Colorado, Mexico, Hawaii and many other places. In 2005 upon the passing of her husband, at the age of 82 she made another brave move, she left all she knew behind and moved to London, ON to be closer to family. She'd get up early, pack a lunch and hike through Springbank Park everyday where she met the Gnausch family who became good friends and introduced her to many new friends and would go on weekly "kaffeklatsch". She loved her weekly euchre, bridge and other card games with her Riverside condo friends, camping, travelling, and day trips with family and friends. She welcomed everyone into her home with open arms and an open heart. She was an amazing cook and baker, her schnitzel, gulasch, knödel, apfelstrudel, sachertortre, kaiserschmarrn and other dishes/deserts were second to none as proven by the many neighbourhood kids who would always drop by for something to eat. She was also well-known for her beautiful gardens. Juliana had a heart of gold, she will be remembered for her beautiful smile, kindness, thoughtfulness, strength, unconditional love, devotion to family, intelligence, sage advice and generosity; but above all else, the love of her family.
The family would like to express their sincere gratitude to the amazing doctors, nurses, and personal support workers at Parkwood Institute, Palliative Care Unit for their kindness, compassion, empathy and supportive care given to Juliana and her family during the last days of her life. At Juliana's request no service will be held. A celebration of life will be held at a later date with family. In lieu of flowers, please consider a donation to St. Joseph's Health Care London, Palliative Care Program, https://www.sjhc.london.on.ca/ways-to-give/donate-now or another charity of your choice.